About Tawnya Sutherland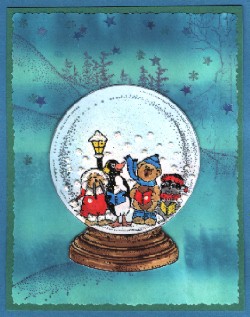 As a child I was very shy around people but found through my creative and giving nature I could socialize in a way that worked comfortably for me. I started designing note cards as a hobby when I was about 10 years old. It thrilled me inside to see the smiles it would put on family and friends faces when they opened up one of my handmade cards.
A smile that said "Thank you Tawnya for caring about me enough to give me this card!"
Fast forward a few years to married with three young children, I decided to start up a home-based business selling artistic rubber stamps and teach other women how to make greeting cards so they could show they care by giving cards too. I named my business Stamp Garden (left the website online as a fond memory) and loved the fact that a hobby I had loved so much as a child had now turned into a wonderful job I could do from home.
Sometimes however, life takes a turn and you lose a part of you that you truly love for awhile. I found myself in this position when I was faced with a divorce and three children to raise. I sold my Stamp Garden business and moved west working as a Virtual Assistant. I have been very successful in this career becoming a leader in the Virtual Assistant industry as founder of VAnetworking.com, the world's largest social network for Virtual Assistants online today which I've been doing every since.  I love my job and smile every time I mentor another VA in starting up their Virtual Assistant business.
Lately though, something has been tugging at my heart and pulling me back towards showing people that I care through card giving.
Saying that, times have changed and I don't really have the spare time to hand make my own cards nor do I really have the time to pop over to the card shoppe to get one. I do send a ecard now and then through Blue Mountain's website and they are excellent, don't get me wrong, but sometimes it's just nice to receive something in the real mail for a change.  So with a purpose in mind, I went on the hunt for a greeting card company that would fulfill all my needs.
Lo and behold, it wasn't long before I found a greeting card company that offered me everything I was looking for.
And their website is really simple too!  I just login, pick a card (or better yet, personalize a card with the recipients own photo), write a special message inside in my own handwriting font, sign with my signature and click send with my mouse.
The automated system then stuffs, seals and stamps (with a real postage stamp) my high quality card to go out in the mail that day.
All for under $1 a card (plus postage).
I can't even buy a greeting card at the dollar store this cheap not to mention I'd have to take time to go there and pick one out.  With this greeting card generating system, everything is at my fingertips online and so very simple:
Choose a card
Write your message
CLICK SEND!
These cards are fabulous and I love sending them. The system can even add a gift if I need one for a special occasion.
Once again I find myself thrilled to be able to send out personalized custom greetings cards.
And at under $1 each (plus postage) for these glossy gorgeous cards, its a real steal to show you care!
Ask me how YOU can get started sending out cards to show you care…
Contact me by phone at 604-542-9664 (Local Vancouver) or Toll Free North America 866-943-6665.